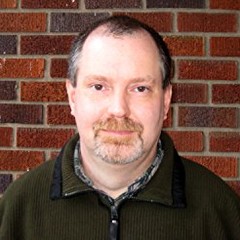 Greg Johnson
Professor of Game Development at SCAD
Savannah, United States
Summary
I'm an experienced professor of game development at the Savannah College of Art and Design with deep proficiency in 3D modeling and sculpting, texturing, materials, lighting, animation, rigging, creative writing, game development, documentation, game systems, game mechanics, and programming.
Skills
Project Management
Art Direction
Concept Design
Digital Sculpting
3D Modeling
UV Mapping
Texturing
Game Design
Game Development
Storytelling
Writing
Public Speaking
Teaching
Illustration
Programming
World Building
3D Animation
Digital Painting
Team Management
Scientific Illustration
3D Visualization
Vehicle Modeling
Hard Surface Modeling
Weapon Modeling
Prop Modeling
Environment Modeling
High-poly Modeling
Low-poly Modeling
Creature Modeling
Texture Baking
Kitbashing
Weapon Design
Character Design
Book Cover Illustration
Photo-manipulation
Photography
Graphic Design
Typography
Visual Development
Vector Illustration
Mel Scripting
Python Scripting
Level Design
Character Animation
Scientific Animation
Compositing
Rendering
Environment Design
Visual Effects
Server Administration
Architectural Visualization
Map Design
Cinematics
Particle Effects
Post-production
Ideation
Software proficiency
Experience
Professor at Savannah College of Art and Design

Savannah, United States of America

As a full-time faculty member I work with leading-edge technology and resources to provide unparalleled opportunities for exceptional students in preparing for creative careers in game development. I serve an instructor in a multitude of software covering a diverse array of topics such as 3d modeling, sculpting, texturing, illustration, programming, concept development, and more. As part of my duties I have developed a vast array of curriculum, courses, and course ware for graduate and undergraduate classes for both online and in the classroom. In addition I have worked on significant grant projects funded by the National Endowment for the Humanities and various state grants.